Is it possible to teach English abroad without a 4-year college degree? Yes! Here's a list of the best countries where you can teach English abroad – no degree required!
Disclaimer: This post contains affiliate links. This means that I receive a small commission when you make a purchase using my link – at no extra cost to you. Thank you for supporting my business! I only recommend products that I believe my readers can benefit from.
Teach English Abroad – No Degree but With a TEFL
First, if you are a native English speaker but don't have a degree, you'll need to do a TEFL course before you go abroad. TEFL stands for "teaching English as a Foreign Language" and there are many different courses to choose from!
A TEFL course prepares you for teaching and helps you build confidence for your first teaching job. I recommend staying away from cheap TEFL courses and investing in an accredited one. Premier TEFL has some great courses to choose from.
In order to teach English abroad without a degree, you'll need a TEFL certification of at least 120 hours (more is better). Once you've completed your course, you're ready to choose where you'd like to teach abroad.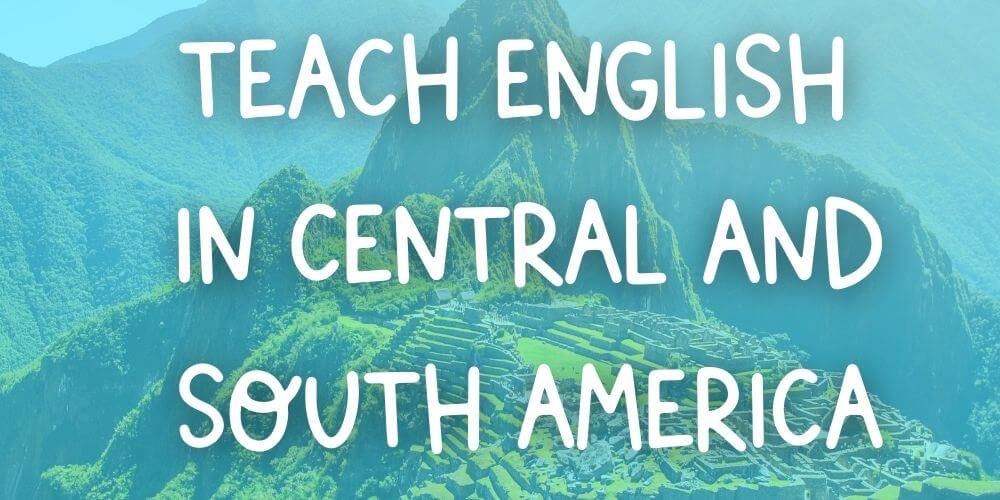 Teach English Abroad – No Degree – in Central and South America
Costa Rica
My first experience teaching English abroad was in Costa Rica. The people are extremely friendly and there are so many beautiful rainforests, beaches, volcanoes and small towns to explore. If you like warm, tropical places with breathtaking nature, Costa Rica is for you!
As long as you have a 120 hour TEFL certification, you'll be able to teach English in Costa Rica. The region with the most demand for English teachers is the Central Valley, with its biggest cities being the capital San José, Cartago, and Heredia.
I taught in a small town called Atenas outside of San José. There was no set curriculum and I taught all ages of children and adults. I usually had between 5-8 children in a class and 2-4 adults in a class.
In general, Costa Rica is one of the safest countries in Central America. However, in my opinion, it's better to teach in Cartago or Heredia if you are worried about safety.
Average salary for an English teacher in Costa Rica
$600-800 a month
Mexico
Mexico is another great option to teach English with no degree. If you love the Mexican culture, gastronomy, ancient ruins, and natural beauty, Mexico is a great choice. There are opportunities to teach business English in larger cities or teach general English in smaller towns near beaches and cultural sites.
Without a degree, you will most likely be teaching general English to young students or working in a rural school. A TEFL certification is a must in order to get an FM3 work visa. In general, Mexico's work visa is much easier than in other countries.
Luckily for English teachers, there is a lot of demand for business English, especially in Mexico City. If you work as a private contractor, companies can hire you directly and the pay is often better than working in a school. However, in-company classes often have unpredictable schedules.
Private English tutoring is also popular and a great way to supplement your income.
Average salary for an English teacher in Mexico
$500-1,000 a month
Peru
Peru offers the opportunity to explore a different culture and amazing natural wonders. While the average salary for English teachers isn't high, the cost of living is low. Peru is a great option for adventurous teachers.
Most opportunities to teach English are in Peru's capital Lima and the second-largest city Arequipa. There are also some jobs in Cusco since tourism has created a need for English speakers.
While it's possible to teach English abroad in Peru with no degree, it might take slightly longer to find a job. Teachers with a bachelor's degree are often chosen first for open positions.
If you aren't worried about pay and would just like to get some teaching experience, there are a number of volunteer programs in rural areas.
Average salary for an English teacher in Peru
$500-700 a month
Teach English Abroad – No Degree – in Europe
Unfortunately, it's more difficult to teach English abroad in Europe without a degree than in Central or South America. This is because most European countries require a work visa or EU residency to work as an English teacher without a degree.
Spain
Spain is an amazing country that is home to a variety of food, landscapes, traditions, and even languages. I spent 5 years teaching English in Spain and highly recommend it!
It's possible to teach English in Spain with just a TEFL certificate, but you must have a work visa. Another option is to do your TEFL course in Spain. Often, TEFL courses have a job placement program that will allow you to stay and teach.
In my experience, Spanish kids have a lot of energy and really love to participate in games, songs, acting, and projects. There are also opportunities to teach in-company business English classes.
Also, private English lessons pay an average of 20 euros per hour and are easy to find. I taught both children and adults in their homes in order to supplement my income.
If you are planning on getting a degree later, here are some other great ways to teach English in Spain.
Average salary for an English teacher in Spain
$800-1,300 a month
Italy
A country of delicious cuisine, stunning landscapes, art, and history, Italy is often at the top of people's teach abroad lists. However, teaching English abroad in Italy isn't without its challenges.
Just like Spain, most jobs to teach English in Italy with no degree will require a work visa or EU citizenship. Additionally, the job market is very competitive. While this makes it difficult to teach in Italy, it isn't impossible. You can also get a student visa and teach up to 20 hours per week on this visa.
The best place to find a teaching job is in a private language school. You can also tutor on the side to make extra income. It's definitely helpful to know some Italian before you arrive.
Average salary for an English teacher in Italy
$1,000-1,400 a month
If you are a student who doesn't have a degree yet, another great option is to work in European summer camps as an English teacher. Find out about my experience at American Village summer camp in France.
Teach English Abroad – No Degree – in Asia
Cambodia
While most Asian countries require a 4-year degree, Cambodia is a great option for English teachers without a degree. If you are hoping to travel around South East Asia, Cambodia is a great home base filled with friendly people.
Luckily, there is enough demand for English teachers that it's relatively easy to find a job without a degree. You can find jobs on job boards or use a third party company to help you get placed in a school.
Popular areas for teaching are Phnom Penh and Siem Reap. Private language schools are popular as well as teaching business English.
Average salary for an English teacher in Cambodia
$700-1,000 a month
South Korea
Most programs and schools in South Korea require a bachelor's degree. However, if you have been enrolled in college for at least 2 years, you are eligible to teach for the TALK program. This South Korean program comes with a lot of extra benefits.
TALK stands for "Teach and Learn in Korea." It's open to native speakers from the US, UK, Australia, New Zealand, Canada, South Africa, and Ireland.
The program places you in underprivileged primary schools and you receive a salary, travel stipend, health insurance, and accommodation. Your salary is around $1,300 per month.
At the moment, this is the only way to teach English in Korea without a degree.
Teach English Online While Living Abroad
Another option to live and work abroad without a degree is on a digital nomad visa. To qualify for this visa you will typically need to either have your own freelance teaching business or be working for several online ESL companies and earn enough to qualify.
Each digital nomad visa has different minimum income requirements, so choose your top 3-5 countries and do some research.
If you'd like to learn more about how to teach online as a freelancer, you can watch this video: