Do you want to teach English online? If you are American, Canadian or South African, you can teach English with VIPKid, "an online education company that connects students and teachers globally through one-to-one personalized English language classes."
I interviewed three teachers who teach English with VIPKid, Nathalia, Jenna, and Jean, about their experiences working for this company.
Edited for August 2021: Due to China's recent policy change regarding foreign teachers, VIPKid will be restructuring and it's future is uncertain. Check out the video below for 6 non-Chinese teaching companies, online teaching marketplace options & online freelance teaching tips.
Disclaimer: This post contains affiliate links. This means that I receive a small commission when you make a purchase using my link – at no extra cost to you. Thank you for supporting my business! I only recommend products that I believe my readers can benefit from. If you choose to use a teacher referral link, that teacher will receive a small commission – at no extra cost to you.
How long have you worked for VIPKid?
Nathalia:
For almost 2 years.
Jenna:
Since August of 2018.
Jean:
Since December of 2017, so almost 3 years.
When you teach English with VIPKid, what is your typical day like?
Nathalia:
I currently live in Spain and all of the students are in China. I start around 5 or 6 am and I finish around 3:00 pm (Spain time).
Each class is 25 minutes and you have 4-5 minutes in between classes if you have back-to-back classes.
Jenna:
Normally, I like to wake up about 20 minutes before my first class of the day. I prefer to wear an orange shirt (not required) because I don't have to worry about what to wear, and my pajama pants! Another thing I do is apply red lipstick so my students can clearly see my lips when I'm teaching correct pronunciation.
After grabbing a glass of water, I open up my computer 5-10 minutes before class starts. Usually, I like to teach my classes back-to-back with only 5 minutes in between, usually between 3-7 classes at a time. Each class is 25 minutes long with one student. I take brief notes throughout the lesson.
Later in the day, I use these notes to help me complete class feedback for parents to read about how their child performed in class and suggestions for practice. At this time I also review the presentation slides for upcoming classes so I know what content I'll be teaching the next morning.
Jean:
I wake up 15 minutes before class around 5:45 am, get ready and go to my office to get set up and turn my camera on.
I teach from 6 am-3 pm daily with two 35-minute breaks in between. My schedule varies depending on the day. Sometimes I don't start until 7 or 8 am if I felt like sleeping in. I try to teach 12-16 classes a day Monday through Friday.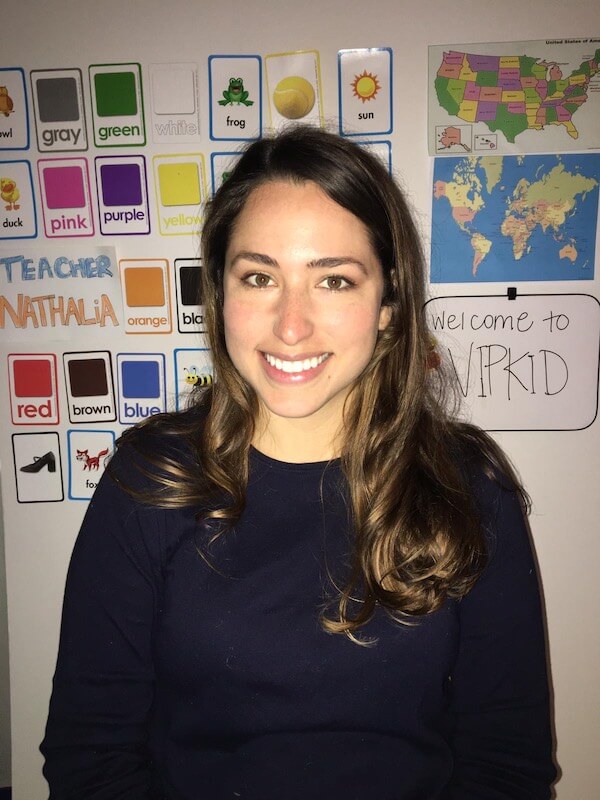 What equipment would you recommend?
Nathalia:
A computer or tablet with a webcam
I would highly suggest getting a mouse
Background – I have an American map from the Dollar Store. You can find a background there, at Target, or at a local teaching store. Amazon has lots of posters too. You can use anything you like as your background, just try to make it look like a classroom.
Props – The sky is the limit! You can use anything you have or you can buy props. You can buy puppets, letter flashcards, a whiteboard with markers, or anything that applies to the content being taught. I have grown my collection over time.
Reward System – You can print images from the PowerPoint lesson given to you by VIPKID or pick your own.
Jenna:
A laptop with a great built-in webcam and a strong internet connection (you'll want to hardwire your connection with an ethernet cord)
A well-lit workspace
Whiteboard, markers, and a SMILE!
Background – you don't have to create a fancy background or have a lot of props. Many of the items I used when I first started teaching were hand-drawn on construction paper and glued to popsicle sticks!
Fun decorations from a craft or dollar store make your teaching space visually appealing and engaging for students
Props – hats, glasses, noisemakers, and puppets, and alphabet cards can enhance your classroom experience
Jean:
A computer or tablet- I teach mostly on my iPad because I like to be able to write on the screen
Headphones or a headset – I just use the Apple white headphones that come with the iPhone because I teach so many classes daily. The headsets that cover your ears would hurt my ears after hours of use
Props – In the beginning, I used a lot of props. Now, I just have a few key props like a small whiteboard, letter/number cards, and a fake microphone to sing into
Rewards – I reward the students when they do well by giving them digital stars (which they can collect and get prizes and swag from VIPKid with)
What's the best thing about teaching English with VIPKid?
Nathalia:
The best thing is being able to make a connection with your students. Once you establish a connection with your regulars, you talk about everything in their daily life and really get to know them. The relationship you make with them is why I have continued and look forward to teaching on a daily basis.
I also love the flexibility of this job. YOU choose how much you want to work and you can work with your pajamas on! They provide 100% of the material for the class and all you have to do is show up.
Jenna:
The best thing about VIPKid (besides my wonderful students!) is hands-down how flexible this job can be! I have been working for VIPKid for over two years and I love that I can set my own schedule or pick up extra hours whenever I want.
I'm able to get my work done for the day before my kids wake up, which allows me to stay at home with my children. I have changed my schedule and availability several times over the course of two years and recently took time off after giving birth to my second child.
Jean:
The best thing is making this kind of money from home in my pajamas and making my own schedule. VIPKid provides all the lessons (interactive powerpoints with teacher instructions on each slide) so absolutely no planning is needed, which is amazing!
What's the worst thing about teaching English with VIPKid?
Jenna:
The worst part of working for VIPKid is the early morning hours. Since students are taking classes in the evening in China, this means many of the popular booking times are between 4-8 AM CST. It takes some getting used to, but in my opinion, it's worth it! (Jenna is located in the United States.)
Jean:
The worst thing is having to be peppy and smiley all day long. (But apparently smiling all day does improve your mood).
Do you need a degree or teaching qualifications to teach English with VIPKid?
As outlined by the VIPKid official website, you'll need:
Two years of teaching experience (can be classroom teaching or tutoring, mentoring, or coaching)
A bachelor's degree from a 4-year university in any field (it doesn't have to be English or Education related)
Work authorization in the United States, Canada or South Africa
You also need to meet the technical requirements
While not exactly required, it is very helpful to have a TEFL certificate before you get hired. I recommend checking out the fast track and level 5 government-regulated TEFL courses from Premier TEFL. You'll want a TEFL certificate of at least 120 hours.
What is the hiring process like?
Nathalia:
1. Apply to become a teacher using a referral code (listed at the bottom of this post.)
2. Based on your experience and credentials, you will be asked to submit a short demo lesson around 10 minutes long with the provided materials. (There are demo videos on how to do this on YouTube or the VIPKid official website to guide you).
3. After passing the demo lesson, you will be able to do a mock class with a current teacher. They'll help prep you for the real thing and give you feedback.
4. Sign your contract and start teaching! You can sign on for a 6-month minimum commitment, but during that time, you can work as much or as little as you'd like.
Jenna:
VIPKid has a general application for interested teachers to complete. If you meet the requirements, next you'll be asked to film a demo lesson using provided materials.
Once you pass the demo lesson, you'll work on reviewing teaching techniques and materials to prepare for your mock lesson with a VIPKid mentor. You may complete more than one mock class to help you get ready for your first class.
Finally, you'll need to pass a background check and complete paperwork.
Jean:
The hiring process was stressful. I didn't pass the first time. I just assumed that because I'm a certified teacher and had been teaching for 10 years in schools before that I'd be an automatic hire. Not the case. I was denied and had to reapply.
You have to be really peppy and they want you to use TPR (total physical response) aka mime and act everything out and be over the top expressive for your interview, which I didn't do at first.
How many hours per week do you work?
Nathalia:
I teach from 200-400 classes per month, which comes to around $2,000 – 4,000 USD a month.
Jenna:
Currently, I am on unpaid maternity leave with VIPKid. One of the benefits of this job was that I could block off my calendar for as long as I needed before and after giving birth. I plan to open up timeslots for classes beginning later this month and hope to teach about 5-10 hours a week. When I first began teaching with VIPKid, I was teaching between 20-25 hours a week.
Jean:
I teach English with VIPKid for 40 hours or more depending.
How much are you paid? What can a beginning VIPKid teacher expect to make?
Nathalia:
VIPKid pays between $7-9 USD per 25-minute class plus $2 per class if you hit a minimum of 45 classes each month and are on time to all of them. Most teachers say it equates to roughly $20 an hour if you do two, 25-minute classes per hour.
Your earnings are based on the number of classes you teach. The more classes you teach, the more you can earn. There is no limit. From teaching more classes to referrals, there are lots of opportunities to earn extra cash.
They offer different payment options. You may choose to be paid weekly, bi-weekly, or monthly. After the classes have been taught, payments will be sent out in your next pay period.
Jenna:
Teachers are paid per class and generally make about $7-8.50 USD per class based on experience and your initial interview. In addition, VIPKid recently made adjustments to their pay scale.
Teachers may also make additional incentive pay, which correlates to the number of classes taught in a month and lifetime number of classes. The average earning amount is about $15-22/hr.
Jean:
I make $9 USD per 25-minute class and get $2 more per class once I teach 45 classes a month. The $2 per class extra they call incentive pay because the company wants you to teach as many classes as you can a month.
I teach 45 classes in my first few days a month so I always make $11per class. So hourly that would be $22 for 50 minutes of instruction. But you also make an extra $2 for classes that are booked last minute (within 24 hours) so for those classes, I make $13, so sometimes I can make $26 for 50 minutes of teaching.
I like to save some of my slots and open them the day before so that I can make the extra $2 for short notice, but it can be a gamble if you get booked or not.
A beginning teacher gets anywhere from $7-10 USD. This is based on your interview and experience. I started making $8, but they give you raises if you meet certain requirements, like having good reviews and teaching a certain number of classes. So, I've gotten 2 raises of 50 cents per class.
What advice do you have for interested teachers?
Nathalia:
Not to be afraid and try it out, everyone can do this job! This has been the easiest and the most rewarding job for me. You are working from home in your pajamas!
Jenna:
I highly suggest that teachers take a look at VIPKid's online resources – check out the official website, blog, and Facebook pages. There are also many VIPKid teachers who share information on their YouTube channels!
If you're interested in VIPKid, read up and reach out to someone who has already completed the application process. I've found this community to be positive and supportive of new teachers!
Jean:
You should apply and even just do it part-time! It's good money to make from home.
What are the students like?
Nathalia:
My students are hard-working, amazing and a joy to teach! Choose what levels you want to teach. You will also be amazed by some kids and how advanced they are.
There is only 1 student per class. I like this because you can personalize your teaching methods to the individual student and modify your teaching speed.
Jenna:
I have a variety of students! Most of my students are between the ages of 4 and 12 years old. I have just one student per 25-minute class.
Jean:
Most of my students are great. All classes are one-on-one, so that's good for the students' learning. You can really focus on what they need help with.
Chinese parents seem to be very strict with their children's learning and I would say 80% of the children take the classes seriously, try hard, and have a good level.
I would say generally, overall, the level of English they have is pretty amazing.
The kids tend to be so dedicated (mostly). I have a lot of regular students that I see for 2/3/4 classes a week so it's wonderful to get to see them grow in their English. However, many students are just a one time deal.
Can you take days off?
Nathalia:
Yes, you choose your hours and days you want to work. You do have to work a minimum of 40 classes per month to get an additional $2 for every class.
Jenna:
Yes! You create your own schedule, generally about 2 weeks in advance. Once you open your schedule for a timeslot, you should be prepared to teach it, as cancelling classes will negatively impact your contract.
Jean:
Yep, whenever I want! I make my own schedule! I live in Spain so whenever I see cheap flights for months ahead I can take off a Tuesday through a Sunday if I want! That's another thing I love about it.
Do you have any inspirational or funny teaching stories?
Nathalia:
You will be able to see how the students get more comfortable practicing their English and how they learn and get better thanks to you. This is so rewarding. My regulars always ask to see my dog and we sometimes take a tour of my apartment when we are learning about rooms in the house.
Jenna:
I have a regular student that loves to hide at the beginning of each class. When I first enter the classroom, I always pretend to be sad and look for him. It brings him so much joy and he pops out to say hello. At the end of our time together, he draws a heart on the screen and says, "Bye-bye, Teacher Jenna. I love you!" These routines that we've developed are really special and keep me coming back to VIPKid.
Jean:
Overall, the kids are great and I have a fun time teaching them, but Chinese kids seem not to care much about privacy. The number of times a student has taken me into a bathroom! They're not supposed to do that, obviously, so I turn my camera off and tell them to leave me outside the bathroom, then call the "fireman." The fireman is tech support from the company and they either cancel the class (I still get paid) or call their parents.
Also, I had one kid take a whole class in some herbal bath. At first, I thought he was just like really sweaty cause his head was all wet but then I realized he was in some sort of weird bathtub with brown water! I assumed it was like a tea bath. I've had classes in cars, on planes, in parks. It can be fun to see their lives.
Anything else you want to say about teaching for VIPKid?
Nathalia:
This has been such a great experience and there is such a great community with this company. There are multiple Facebook groups, events, resources, conventions, and rewards for teachers.
Jenna:
It is quite incredible to wake up each morning and teach students on the other side of the globe. I am teaching from a corner of my basement, reaching them in their living rooms in China.
It's an honor to be in their homes, meeting siblings and family members, being a part of their daily lives. I have learned that there are so many universal truths to humankind, we have more commonalities than differences.
For my regular students, I have been a part of their family for over two years and it has been wonderful to hear from parents how much joy my classes bring to their child. No matter how tired I am when I open my computer in those early hours, as soon as I see my student's smiling face – I am brought to life and excited to teach. Starting my day with VIPKid brings me a lot of happiness!
I think it's important for a prospective teacher to know that the materials are provided for you, along with some teaching tips, but you have the freedom to put your own spin on it.
The lesson materials are provided for you and include a PowerPoint like slideshow. Some courses have interactive features like multiple choice questions, puzzles, songs, sorting, and audio activities.
VIPKid provides teacher tips for each lesson, but you have the freedom to put your own creative spin on how you deliver the material.
Jean:
Parents score us on our classes. Like an Uber driver has a rating, so do we. You could get fired for having bad reviews. You get apple reviews out of 5, so obviously 5 apples would be the best.
Some teachers can have trouble with getting good reviews from the parents. I just recommend smiling literally during the entire class. *Knock on wood* I've never had a bad review. I have 1,431 reviews and only 3 of them have been 4 apple reviews. The rest all fives.
But overall, I love doing this! And I'm happy to have found this remote job to make this kind of money from home!
Start your VIPKid teaching journey today!
If you would like to teach with VIPKid, please click on a teacher and sign up using their referral code below. They really appreciate it!
More online teaching options:
Teach online with no previous experience