South Korea is often at the top of people's lists as a great place to teach English abroad. With lots of benefits, high potential to save money and modern conveniences, Korea stands out among teach abroad destinations. In today's post, you'll learn 3 ways to teach English in South Korea: EPIK, TaLK and hagwons. Find out which is the best option for you!
Disclaimer: This post contains affiliate links. This means that I receive a small commission when you make a purchase using my link – at no extra cost to you. Thank you for supporting my business! I only recommend products that I believe my readers can benefit from.
First Way to Teach English in South Korea: EPIK
To begin, the EPIK program is the most popular way to teach English in Korea. EPIK stands for "English program in Korea" and offers a competitive salary, paid airfare, accommodation and bonuses.
There are placements both in metropolitan areas like Seoul and Busan as well as provinces. Placements are much more competitive in larger cities, do just be aware of this if you have your heart set on Seoul or Busan.
Benefits include a settlement allowance during the first month of your contract, accommodation, severance pay once you complete your contract, bonuses depending on the location of your contract, 50% of your insurance premiums, and lodging and meals during the mandatory orientation.
Contracts are for one year and there are two intakes for new EPIK teachers each year. The working hours are 8 hours per day, 5 days per week M-F. Instruction hours are 22 per week, with overtime paid if you work more than this. There are around 14 days of Korean holidays per year.
Is EPIK right for you?
If you are a native English speaker with a degree, then EPIK could be right for you!
Native speaker from Australia, Canada, Ireland, New Zealand, the US, the UK or South Africa (Indian citizens must have a teacher's license in English).
Must have completed schooling in English starting at least in 7th grade.
Must have graduated from a university in one of the countries above (program in English).
Have a TEFL of 100 hours of more or a degree in teaching.
Positions are available for teaching elementary, middle and high school students in public schools.
The EPIK program helps you get your visa.
If you don't have a TEFL or teaching degree, you can complete a TEFL certificate during the application process. You must complete your TEFL no later than 6 weeks before your arrival in Korea. If you don't have a TEFL, I recommend checking out Premier TEFL courses. All of their courses are accredited, they have amazing student support and there are options for different budgets.
Apply to the EPIK program here. It's recommended to apply at least 6 months before you want to go abroad.
You can also learn more on the official EPIK Facebook group.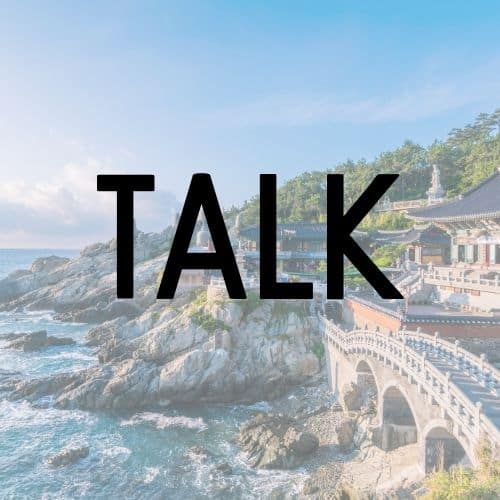 Second Way to Teach English in South Korea: TaLK
EDITED FOR AUGUST 2021: The TaLK program has closed down due to complications with the coronavirus pandemic.
TaLK stands for "Teach and Learn in Korea" and is a great option if you have an associates degree or haven't graduated from college yet. This program also offers benefits like a travel stipend, accommodation and health insurance.
The TaLK program works with underprivileged elementary schools in rural areas. Contracts are to teach 15 hours per week of after-school classes and the program runs for one year. Some teachers choose to try this program before applying for EPIK.
Is TaLK right for you?
If you are a native English speaker with an associate's degree or if you've completed at least two years of university and are still enrolled, TaLK could be right for you!
Must be a native speaker from Australia, Canada, Ireland, New Zealand, the US, the UK or South Africa.
Positions available to teach elementary learners only.
Recommended if you want to work fewer hours than EPIK and live in a more remote area (great for language learning).
The TaLK program helps you get your visa.
Click here to read reviews of the TaLK program from former teachers and apply for TaLK (link to website)
Third Way to Teach English in South Korea: Hagwons (Private academies)
Finally, the last option is to work for a "hagwon: or private academy in South Korea. This option is best for the adventurous teacher who is comfortable identifying scams and willing to put in the work to find a good school.
Hagwons are language academies that can be found all over Korea. Like the public school program EPIK, hagwons in larger cities like Seoul and Busan are more competitive. However, the advantage is that hagwons hire year-round and the process to get abroad is faster. Some teachers are able to start working in Korea in as few as 2-3 months.
In general, pay is higher in hagwons, but the hours can be a bit sporadic. Hagwon hours are usually after-school, evening and weekend hours. If you go through an agency, you'll likely be offered benefits similar to public school jobs: flight stipends, accommodation and more.
Is working in a hagwon right for you?
Hagwons are looking for native speaking English teachers with a college degree. You'll be easier to hire if you have a TEFL or teaching degree and some previous teaching, tutoring or mentoring experience.
Must be a native English speaker.
Must have a college degree and it's HIGHLY recommended to have a TEFL.
The best way to find hagwons is through a recruitment agency. However, you'll need to be careful because there are both agencies and hagwons that are scams.
You'll need to get your own E-2 visa. You can start the process before looking for hagwons (such as getting your degree notarized and requesting an FBI background check), but can only apply once you have a contract from a hagwon.
Working at a hagwon is recommended for people who have taught abroad before or are good at avoiding scams.
How to Avoid Hagwon Scams
To avoid scams, always look for reviews of the agency/hagwon. Try to find hagwons with a good number of reviews. Additionally, you can google the name of the hagwon followed by "blacklist" and look for comments from former teachers.
Check out the forums on Waygook and recent comments in teach in Korea Facebook groups. Ask current or former teachers to recommend agencies and hagwons. Also, during the interview process, ask to speak with current teachers.
Don't settle for one agency or one hagwon. Contact as many as possible so you can find the best fit for you!
Can I teach in Korea right now?
Despite the current world issues, schools and programs in Korea are actively hiring. Make sure to keep up to date with border closures and quarantine procedures. It's recommended to set some money aside now in case you need to pay for quarantine. Here's a video on teaching during Covid-19.
Also, make sure to start your visa process as soon as possible and know that some documents, such as notarizing diplomas or FBI background checks are taking longer than usual due to shutdowns. Check with your local Korean consulate or embassy to find out what documents you'll need.
If you need any help during the application process or to decide which program is right for you, you can fill out this survey or send me an email at jamie@eslteacher365.com. Happy teaching!
Join my private Facebook group if you'd like to find out how to teach English abroad + online.

Looking for programs similar to EPIK and TaLK in different countries? Check out this post on teaching abroad after college in language assistant programs.