Are you ready to see the world, but don't want to give up your job as an online teacher? Well, you're in luck! Teaching online has become increasingly popular over the last few years, and it is now possible to do it from many countries around the world. As a digital nomad, you can legally travel, live abroad and work at the same time.
So let's dive into everything you need to know about teaching online as a digital nomad.
Disclaimer: This blog post contains affiliate links. This means if you make a purchase using these links, I receive a small commission – at no extra cost to you! This helps me continue to create helpful content for teachers. Thank you!
What Is a Digital Nomad and How Do You Qualify for a Digital Nomad Visa?
Are you looking for the perfect job (teaching online!) with the perfect lifestyle (exploring a new country!) all at once? Then you may be wondering what a digital nomad visa is and what it takes to qualify for one.
First, let's define a digital nomad. A digital nomad is someone who works remotely while living in another country or multiple countries. These people can take their jobs on the road, no office required. And if you're considering becoming an online teacher, this could be your ticket to freedom. If you're new to online teaching, then you can check out my self-study mini-course "Teach Online in 10 Days."
Now that we know what a digital nomad is, how do you qualify for a digital nomad visa? Most visas require applicants to prove they can support themselves financially—therefore, you must show proof of an income or job in order to get approved. Additionally, certain countries have specific requirements depending on your citizenship status and other factors. So it's important to do your research before making any big moves.
The best way to qualify for digital nomad visas as an online teacher is to have your own freelance online teaching business. If you're currently teaching online for ESL companies and ready to transition to teaching online as a freelancer, then I recommend watching this video on how to get started teaching online as a freelancer.
Navigating the visa process as a digital nomad can be overwhelming, but don't give up! As long as you keep it organized and stay informed on each country's regulations and requirements, you'll be teaching online abroad in no time.
Pros and Cons of Teaching Online as a Digital Nomad
Teaching online as a digital nomad is a great way to explore the world and work at the same time. But nothing is ever perfect and there are pros and cons to consider when choosing this lifestyle.
On the plus side, digital nomads can work from almost anywhere with a good internet connection. Depending on your digital nomad visa, you may be able to stay in one location for any period of time from a few months to a few years. You'll also be able to meet new people from all over the world while still having plenty of time to sightsee and explore.
On the other hand, getting a digital nomad visa can be difficult as there are minimum income requirements that vary by country. You will also need to carefully plan your visa applications and paperwork, which can take up time that you could have used exploring or teaching instead. And if you have students in different parts of the world, you'll need to take their time zones into account when scheduling classes.
Another important consideration is travel medical insurance while living and working abroad. You'll need to get your own coverage to protect you in case something goes wrong (and with all that traveling and exploring you'll be doing, you will want to invest in quality travel medical insurance!)
If you're looking for a travel medical insurance provider that was built specifically by nomads for nomads, then I recommend checking out SafetyWing. What I like about SafetyWing is the ability to manage your travel medical insurance while you're already abroad. This is extremely important for digital nomads since you'll be moving from place to place and traveling often.
Find out more about SafetyWing travel medical insurance.
Overall, teaching online while traveling as a digital nomad is an amazing experience but it's important to consider all aspects before taking the plunge.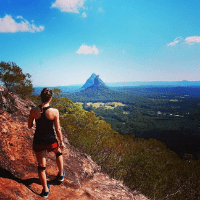 Best Places to Teach Online as a Digital Nomad in 2023
A digital nomad lifestyle teaches you to venture out of your comfort zone and explore the world. In 2023, these are the 8 best locations to teach online as a digital nomad according to CIEE.org:
Georgia
Portugal
Colombia
Mexico
Croatia
Hungary
Costa Rica
Brazil
These countries have digital nomad visas that online English teachers have successfully qualified for. Each location offers unique attractions and rewards. Remember that each digital nomad visa has completely different requirements, so research your options carefully.
There are several factors to consider when deciding where to teach online as a digital nomad:
The cost of living
Access to high quality wifi connections
Length of the digital nomad visa
Minimum income requirement to qualify for the visa
Time zone in relation to your students' time zones
The language, culture and sights of the country
How to Get Started Teaching Online as a Digital Nomad
So you're ready to take the leap and start teaching online as a digital nomad in 2023. It's a thrilling journey, but before getting started, it's important to make sure that you have a solid plan.
Set up your online teaching business
The first step is to make sure you have an online teaching business that will allow you to qualify for the digital nomad visas. You'll need to make sure you have enough steady income coming in before going abroad.
If you'd like 1:1 help setting up your freelance online teaching business, I offer private online teacher coaching packages to help you create your dream online teaching business. Click here to learn more about my online teacher coaching.
Choosing the right country
As previously mentioned, there are a few different factors to consider when choosing where to begin your digital nomad journey. I recommend choosing 2-4 countries to focus on. You always want to have a back up plan in case something falls through!
Visa eligibility requirements are constantly changing, so make sure to stay on top of all of the latest news and updates about your visa options.
Gather paperwork
Applying for visas to live abroad typically requires a lot of paperwork. You'll need to read the instructions of each individual digital nomad visa, but here are some common items you will want to gather:
Passport valid for at least 6 months past your travel dates
Birth certificate
Degree and transcripts if you have them
TEFL certificate
Criminal background check (these expire, so just look at the requirements to get one)
Medical records
Proof of income and bank statements
Final Thoughts
Being a digital nomad offers a fantastic opportunity to explore the world, gain new experiences and live life to the fullest. With more countries now beginning to offer digital nomad visas to online teachers, the possibilities are even greater.
As with all major life decisions, there are pros and cons to consider, and understanding each of these can help you decide whether or not teaching online as a digital nomad is right for you. With careful planning and research, you can find the perfect country and get the digital nomad visa you need to make your dream a reality.
Happy teaching!
Jamie