If you want to teach English abroad or online, you've probably heard that you need a TEFL certificate. I just completed the International TEFL Academy 11-week online TEFL course and in this post I'll share what the course is like, the pros, cons and who I think should take this course. 
Disclaimer: This post contains affiliate links. This means that I receive a commission when you make a purchase using my link – at no extra cost to you. This supports my business and allows me to help teachers like you. Thank you!
What is the International TEFL Academy TEFL course like?
International TEFL Academy offers full-and part-time online TEFL courses, TEFL courses abroad and specialty TEFL courses like Grammar and Online Teaching. 
The courses are taught by university-level instructors who all have an advanced degree and international teaching experience. This course is considered a level 5 course and is accredited by TQUK which is the authorized accreditor of Ofqual.
I joined one of the 11-week online part-time TEFL courses with a small group of other new and even experienced teachers. Each group has limited spots so if you are considering this course, you'll want to book in before it sells out.
Book your spot in the International TEFL Academy course.
Tasks & Coursework
Before you even start your course, there's a Grammar Reference mini-course you can complete. While this isn't required, I recommend going through it because it covers all the basics of English grammar. Even as a seasoned teacher it was a helpful refresh.
Each week there are several tasks to complete such as the weekly chapter reading, weekly assignment, peer to peer forum posts and the chapter quiz. There are strict deadlines for all of these so I recommend writing down all the deadlines on your calendar.
There are also two required course evaluations. You submit your feedback on the course at the mid-way mark and at the end of your course.
What sets the International TEFL Academy course apart from other online TEFL courses that I've taken is the strict schedule. While other courses allow you to complete work at your own pace, the ITA course enforces the schedule down to the minute. This is just something to be aware of if you are a busy person.
If you have questions on assignments, you can either email your instructor or there are office hours that you can attend. Unfortunately they were at a really bad time for me since I was taking the course from Australia and the teacher was in the US, so keep that in mind if you aren't in a US friendly time zone.
Teaching Practicum
For the teaching practicum, 20 hours of teaching practice and/or observation are also required in order to earn your certificate. At least 6 hours must be spent teaching, but I recommend at least 12 hours if you are new to teaching English.
You are in charge of finding your own teaching practicum location(s) but ITA does provide helpful resources to guide you. You can complete your teaching practicum in-person, online or both. If you are planning on teaching in-person abroad, then I recommend doing the majority of your practicum in-person.
I personally used my Cambly tutoring hours and freelance teaching hours to complete my teaching practicum. You can complete your practicum during your course or up to 60 days after the course.
After completing your teaching and observation hours, you'll fill out a form with information on where you taught and complete a short reflection on your practicum.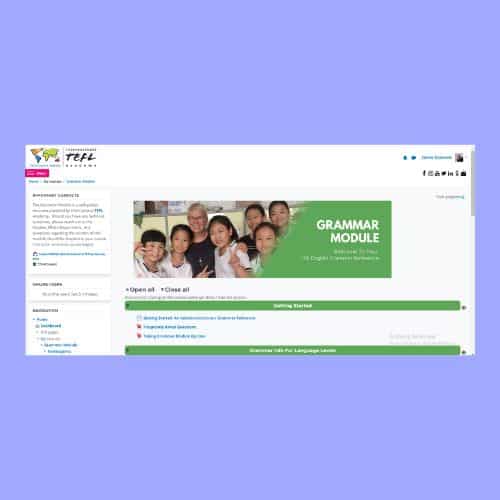 International TEFL Academy Online TEFL Course Pros
The weekly readings were up-to-date, detailed and relevant. I found the chapters on using technology in the classroom and cultural sensitivity to be very useful and more in-depth than other TEFL courses I've taken.
The course is challenging – even for a seasoned teacher I was challenged in creating extremely detailed lesson plans, creating activities based on a student's needs analysis or a specific type of lesson and the questions in the peer to peer forum posts were thought-provoking. In my opinion, this course prepares new teachers a lot better than cheaper courses that are simply reading a document and taking quizzes.
I like that there is a teaching practicum component to the course. A lot of schools and employers are now looking to see if your course included teaching practice. While the teaching practice doesn't have mandatory feedback like a CELTA course, it's still helpful for new teachers.
ITA provides a lot of resources like lesson plan templates, job guides, lists of ESL games – I haven't seen other TEFL courses offer as many resources
The lifetime job search assistance and alumni groups are what set this course apart from other TEFL courses and even CELTA. You get to work with your own job advisor and get access to private Facebook groups for teaching in specific countries and a main alumni group. There are over 40,000 people who have taken this course so it's easy to network with people who are currently doing what you want to do.
Branded videos – although some of the videos used in the weekly readings are a bit dated, ITA at least made an effort to create most of the videos that are used in the course. Other TEFL courses that I have taken upload random videos from YouTube and there's no consistency.
International TEFL Academy Online TEFL Course Cons
You have to pay for the textbook – during your course you can access the course textbook online. However, if you want to use the course textbook for refrence when you are teaching after the course, you have to purchase it. Since you are already paying a lot for the course I'm not sure why the textbook isn't included.
There's no standardized feedback during your teaching practicum like in a CELTA or CertTESOL course. This means that it's up to you to seek out mentors who will offer you helpful feedback on your teaching. When I took CELTA, for example, I got feedback from two different tutors and my classmates on the lessons I taught. We had extensive meetings after teaching to troubleshoot and this is really important for new teachers. I wish that ITA had a standardized feedback worksheet that they gave to anyone observing your lessons.
The online course is run on Moodle and I hate it. Moodle seems like a very outdated platform and I found the deadlines confusing and easy to miss, the Moodle site itself hard to navigate and the overall experience to be frustrating at times.
Some weeks were heavier than others – I thought it was really hard to plan my other obligations around the course because I never knew what the workload would be like. Some weekly assignments took one hour while others took over 4 hours.
Can't miss any of the work, even if there is a holiday, so keep this in mind. I took this course over Easter and was traveling in remote areas of Australia, yet I still had to meet deadlines during this period. There is an option to retake course later on if you do miss a deadline, but then you have to start everything over. Consider this carefully when planning to take your course.
Who should take the International TEFL Academy Course?
In my personal opinion, as someone who regularly tests TEFL courses, I think you should take the ITA TEFL course if you:
Want a high-quality level 5 course with teaching practice and prefer to complete your course online or abroad.
Have no degree, no previous teaching experience and/or are a non-native speaker and are looking for a course that will prepare you to teach abroad or online.
Are considering a course like CELTA or CertTESOL but want lifetime job search assistance and networking opportunities (CELTA & CertTESOL don't offer this).
Enroll in your International TEFL Academy course here.
How does ITA compare to other courses?
If you are deciding between a CELTA course and ITA, it depends on where you want to teach. Some countries in Europe and more competitive countries in the Middle East prefer CELTA. If you are a brand new teacher with no teaching experience, CELTA is helpful since you get a lot of feedback from your instructors and peers on your teaching practice. However, CELTA doesn't include any job search assistance. As someone who has taken both courses, price-wise, ITA is the better option because of the job search assistance it provides.
If you are deciding between a basic 120-hour course like Premier TEFL and ITA, here are some tips. While a basic 120-hour course is much more affordable, the experience is very different. You are typically just reading material, maybe watching a few random videos and taking quizzes. These courses can easily be completed in a few weeks.
Job search assistance is usually a basic list of links of places you can apply to. If you only want to teach online or are a native speaker with a degree and previous teaching or tutoring experience, then a basic 120-hour course is most likely enough. However, if you don't have a degree or teaching experience or are a non-native speaker and are looking at teaching abroad, then ITA is the better choice.
I hope you found this review of the International TEFL Academy course helpful!
If you still aren't sure which course is right for you, check out this blog post on other options.
Happy teaching!
Jamie