The Cambridge B2 First (FCE) essay is easier to write than you think! Follow these steps to write the perfect essay.
What is the Cambridge B2 First Essay?
Part 1 of the writing test – there are 2 parts total
140-190 word limit
You have about 40 minutes to plan and write your essay
You must answer a question using two notes and your own idea
The topic requires general knowledge only
The essay is always formal because it is written "for your teacher"
Step One: Look at the Task (1 minute)
To begin, all B2 First essays have a similar format. This is great because you know exactly how to write the essay before seeing the question.
Read the essay question carefully and HIGHLIGHT any keywords you need to write about.
Tip: If you don't understand the question or notes, DON'T PANIC. Try your best to write the essay. You will still get points for grammar, vocabulary, and structure.
Sample exam test from Cambridge English.
Step Two: Write a plan (5 minutes)
A lot of my students dislike writing a plan. However, a plan helps you organize your thoughts and helps you write a better B2 First essay. Your essay needs 5 paragraphs. We will use the sample task from above as an example:
Paragraph structure for an essay
Introduction
Transport
Rivers and seas
Your own idea
Conclusion
Next, to create a plan, write a few words for each paragraph. DO NOT write whole sentences. This takes too much time. Try to focus on keywords and short phrases.
Tip: "Your own idea" DOES NOT mean your opinion. You need to think of another topic related to the question to talk about. Some ideas for this task could be: recycling, agriculture, industry, etc.
Additionally, you can prepare a list of linking words and related vocabulary. Getting these words written down before you start helps you remember to use them.
Look at the example plan below. You can draw something similar on a blank piece of paper.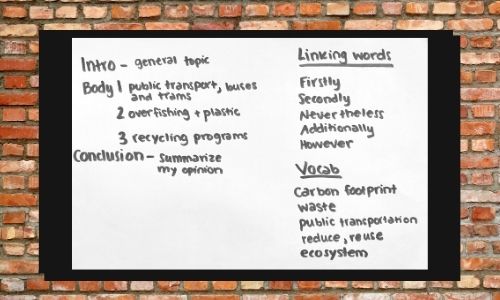 Tip: Time yourself – see how long it takes for you to write a plan. Try to reduce that amount of time as much as possible.
Step 3: Write your essay (32 minutes)
On the official test, you must write with a pen. No erasable pens or pencils are allowed. I suggest writing your plan and essay with a pen every time you practice.
Let's take a look at each paragraph of the essay.
Introduction
The introduction to your essay should be 2-3 sentences long. It introduces the essay topic in a general way.
Tip: DO NOT include your opinion in the introduction. Your opinion goes in the conclusion.
If you are unsure how to write an introduction, try this structure and look at the example:
Structure of the introduction
1 sentence about the topic in general
1-2 sentences about the topic more specifically, including a question if you like.
Example Introduction
Body of the essay
The body of the essay has three paragraphs. These paragraphs talk about one idea with supporting examples.
For each paragraph, you need to write a topic sentence. A topic sentence is the main idea of the paragraph. DO NOT copy the notes. Instead, try to rewrite the idea in your own words. This is called "paraphrasing."
Your paragraphs should be 3-4 sentences.
Tip: Start each paragraph with a linking word.
Structure of a body paragraph
Linking word and topic sentence
Supporting sentences

Example body paragraph
Follow the same structure for each body paragraph.
Tip: Remember that "your own idea" is NOT your opinion. Write about an additional topic related to the question that you wrote down on your plan.
Conclusion
Finally, you get to say your opinion! In the conclusion, you need to summarize the topic and give your opinion on the question. A conclusion should be 1-2 sentences long.
Structure of the conclusion
Transition word and a sentence summarizing the topic
A sentence that gives your opinion
Example conclusion
Step Four: Review your writing (2 minutes)
This is another important step that students often miss. Take two minutes after writing your essay to check for spelling and grammatical errors.
Since you wrote in pen, simply cross out the incorrect word or words LIKE THIS and rewrite them.
How can I get a higher mark on the FCE essay?
Now that you know how to write an essay for the Cambridge B2 First exam, let's look at how to get the best mark possible.
Increase your mark on your B2 First essay
Include 5-8 linking words – these words introduce paragraphs and connect ideas
Use a variety of grammatical structures – you should have both simple and complex forms. Try to use perfect and future forms, conditionals, comparatives, relative clauses and passive
Use formal vocabulary – do not use slang or simple words like "good, big, small, bad." Also, do not use contractions. Write "cannot" instead of "can't"
Make the essay interesting to read – the examiners read hundreds of essays so make yours easy to read and engaging
Use the correct amount of words (140-190) – it's ok to be a few words over the limit, but not too many
Final Advice
The best way to improve your writing skills … is to write! Try to write a few essays each week and ask your teacher for feedback. I have had students who entered my class with very poor writing skills and with practice, they were able to pass the exam after only 10 weeks!
I help students prepare for the FCE exam with private lessons via Zoom. Email me at Jamie@ESLTeacher365.com or check out my private lessons page to learn more.
If you want more practice for the B2 First, try these Speaking exam tips, free writing checklist, and Reading part 1 practice.