Are you a teacher who wants to work in Spain or Portugal over the summer? Go Camp Spain is an international summer camp staff provider recruiting hundreds of teachers from around the world each year to work in summer camps located in Spain and Portugal.
Go Camp Spain gives teachers the opportunity to spend the summer doing something different while making an impact in kids' lives and gaining new skills, friends and memories. Your role includes looking after children, teaching your language and participating in cultural activities.
This guest post is written by Go Camp Spain, so keep reading to find out more about teaching abroad in the summer through Go Camp Spain.
What are the eligibility requirements to participate in Go Camp Spain?
Go Camp Spain was founded on the idea that Summer Camp is for everyone, regardless of gender, religion, ethnicity, or sexual orientation and that we all deserve the opportunity to travel, work and experience another culture. That's why we accept applications from all over the world taking into consideration the following requirements:
Degree or studies related to education and/ or theater/ drama.
C1 English level or native speaker
Be open-minded
Love working with children
Believe that children's education is the key to our future
Empathy and tolerance
Be available over the summer – between June 15th and 15th August (approx.)
Experience living and/or working abroad
It's also helpful to have a TEFL certificate!
What is the fee to participate and how much are teachers paid at Go Camp Spain?
At Go Camp Spain, teachers earn a salary, but there is a fee to participate in the program. This fee covers visa support, insurance and emergency support and more. Getting a visa to work in Europe can be challenging, which is why we offer this support.
The standard price to participate in the program is 570€ and can be paid in 2 instalments. This fee includes:
Placement at one of the camps according to your profile
An official Certificate from the Ministry of Education for "Leisure and free time monitor" (a monitor is like a camp counselor)
Medical and accident insurance for non-European citizens or the European Health Insurance Card for European citizens
Full support before, during and after your applications process
24-hour emergency support
Visa support
A certificate at the end of your stay
A letter of recommendation upon program completion
Camps where we place our teachers pay about 150-300€ per week with room & board covered during your stay plus at least 1.5 days off for free time.
What is the visa process for teachers working at Go Camp Spain camps?
Depending on where you are from, you may or may not need a visa to work at Go Camp Spain.
Europeans do not need special documentation, but non-European citizens will.
We know that applying for a visa can sound daunting but don't worry, we are here to help you in every step of the way. We have a certified immigration consultant on the Go Camp Spain team who will be able to assist you with all the required paperwork.
Go Camp Spain is fully supported by the Spanish Ministry of Education so we are able to manage non-European documentation. The process normally takes 3 months, with three stages for international teachers:
Step 1: Information: the first step is an online meeting where we explain what documents are needed, how long the process takes, etc.
Step 2: Management: In this step, we arrange everything you'll need for the third step related to paperwork.
Step 3: Action: In the final step, you will take the paperwork we have prepared to your nearest Spanish Embassy to apply for your visa.
Applicants for non-European countries should apply from September to April so we have enough time to manage everything for your experience.
If you are a current Auxiliar de Conversacion (language assistant in Spain), you are welcome to apply to Go Camp Spain.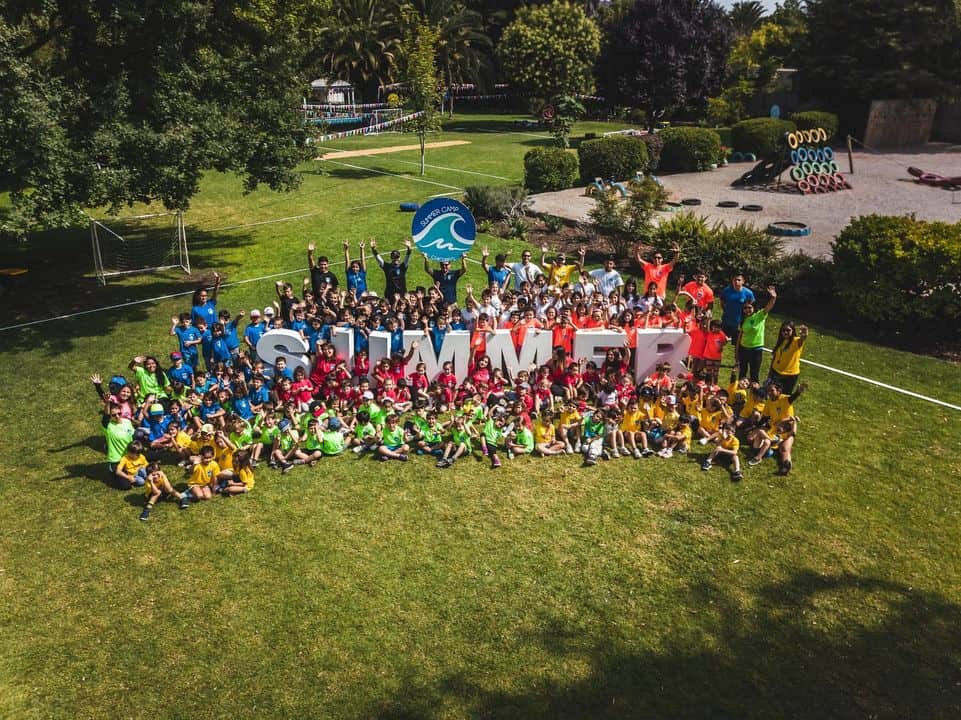 What is it like teaching at Go Camp Spain?
Spain unfortunately is at the bottom of Europe in terms of languages so we need international professionals from the world of education who can come here and help us learn.
The Spanish Ministry of Education is investing a lot of money and resources in bilingual programs in schools. This means that in the upcoming years, there will be more and more opportunities for international staff.
Summer camps are the cornerstone of this project since this is where kids can learn in a fun way, surrounded by friends and with a different perspective than in traditional schools. This is why international teachers have a lot of autonomy to implement their own methodologies and summer camps allocate resources for teachers to create games and activities.
There are many different kinds of camps where we place teachers. You might be in a day camp, surf camp, farm camp, horse camp, adventure camp, etc. We try to match the type of camp to your profile.
Everything that you do with the kids will require you to speak in English, but you are welcome to speak in Spanish/Portuguese to the other teachers and staff. This is a great way to practice the language and keep it up over the summer. You are typically working 8 hour days like a normal summer camp.
Why should I apply to teach at GO Camp Spain?
The staff of GO Camp Spain is shaped by individuals who have taken part in international projects like volunteering, internships, working holidays programs, Erasmus, etc. If you are interested in international exchange and would like to spend the summer abroad, this is a fantastic opportunity.
In this program you are going to find an experience that is built by these pillars:
Intercultural experience:
camps that fit your profile and interests
participate in Spanish cultural activities
help designing a trip in Europe after your camp experience
party at the end of the summer camp experience with all participants
Basic needs are covered:
accommodation and food are covered
pocket money for recovering your expenses and traveling when your camp ends
internet to contact your family and mobile card
Worldwide community:
friends from around the world
get feedback from former participants
camps try to have monitors from different countries (Canada, USA, Ireland, etc.)
possibility of becoming an ambassador for Go Camp Spain
Take care of the environment:
your carbon footprint is offset with a sustainable project
you receive a certificate from the UN
for the sustainable project, you can choose where to help
many camps are located on farms or in nature
Support during your experience:
online support before your arrival
support during your application process
medical insurance provided
24/7 support
How can I apply to teach at Go Camp Spain?
To apply, visit the Go Camp Spain website. Alternatively, you can email: info@gocampspain.com or WhatsApp at +34618067751. Please mention that you found out about Go Camp Spain from Jamie at ESL Teacher 365.
Remember that the visa process takes time, so the time to apply is between September and April. If you want to teach over the summer, you need to be available during the month of July as a minimum.
There are also opportunities to teach at camps from January to August, so please contact Go Camp Spain if you have availability during these months.